4GLOBAL publishes latest COVID19 recovery figures from the UK leisure sector
In partnership with Health Club Management, the 4GLOBAL Digital team has shared the latest findings from our analysis of the UK sector. 
---
Against the projections made in the COVID-19 Impact Report, published alongside ukactive in May 2020, live participation figures from the DataHub show that the calculations of the research team were accurate ±2% for the first 8 weeks since re-opening, taking into consideration capacity restrictions and a steady rise in consumer confidence. These results were also presented at the European Health and Fitness Forum earlier in October, in partnership with EuropeActive.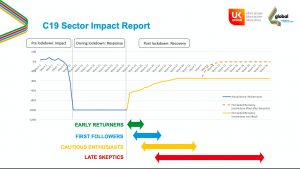 4GLOBAL Consulting Partner Utku Toprakseven stated: "We are delighted to continue our partnership with EuropeActive by contributing to this important report. Intelligence and actionable insight are going to be fundamental in driving the recovery of the sector across Europe, and the sharing of data in a consistent and standardised way will be a big part of that. We look forward to working closely with EuropeActive, Deloitte, and their partners, and helping in whichever way we can."
Click here to download 4GLOBAL's Covid19 UK Impact Study