4sight: Week 3 29/10/20
Women lead return to activity

Women have led the return to activity at leisure venues since lockdown, making up 55% of new joiners and showing a lesser reduction in overall physical activity
---
Women and girls looking to get active again
Since the 25th July, 55% of new joiners to gyms and leisure centres across DataHub have been female. New joiners are defined as anyone that has joined the facility since 25th July. This includes members who cancelled during lockdown and subsequently re-joined but does not include members that 'un-froze' their membership.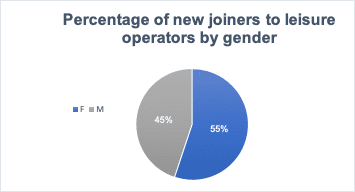 This insight has been generated using aggregated data from the DataHub, the largest repository of sport and physical activity data in the UK. For more information on the DataHub visit www.datahubclub.com.
Resilience during lockdown
The Active Lives Survey Coronavirus Report (Mid-march – mid May) also highlights the resilience of females in their physical activity habits. While physical activity dropped across all people during lockdown, the -5.4% drop in the number of active females is more encouraging than the -8.9% drop seen in males.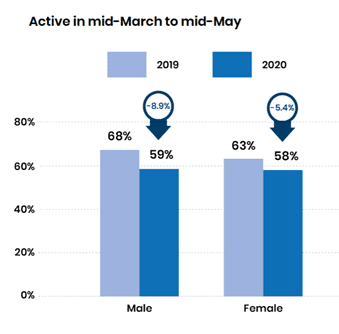 Sport England, Oct 2020. Active Lives Adult Survey – Coronavirus Report. Link – https://sportengland-production-files.s3.eu-west-2.amazonaws.com/s3fs-public/2020-10/Active%20Lives%20Adult%20May%2019-20%20Coronavirus%20Report.pdf?2L6TBVV5UvCGXb_VxZcWHcfFX0_wRal7
High and low performing activities
Tennis, fitness and swimming are the activities that have been favoured by women and girls, as shown in the data for the most recent completed week.
The top 3 best and worst performing activities in the table below highlights how sports have performed (visits by females from 19th – 25th October 2020) in comparison to the same week in 2019.

For further information or to enquire about 4GLOBAL's insight services, including COVID19 Business Recovery Modelling, please contact enquiries@4global.com.